Server Maintenance
Global top performer for independent maintenance and support for Cisco, HPE, Dell, IBM, and Lenovo servers within the data center.​
MANUFACTURERS SUPPORTED
Extend your server and data center equipment useful life with Top Gun TPM 2.0™ maintenance. Receive in-house call-home monitoring, and remedial software support for manufacturers such as Cisco, Dell EMC, HPE, IBM, and Lenovo. Our world-class L3 technical team optimizes your infrastructure environment to unlock improvements in system availability, performance, and flexibility.
DELL SUPPORT
Top Gun Dell hardware maintenance and support services for Dell PowerEdge Blade, Rack, Tower, Micro, and Blade Center provide your enterprise with an independent Dell alternative for post-warranty IT hardware support. Keep your data center equipment running longer while keeping your business resilient and scalable for the future under the Top Gun TPM 2.0™ support model.
HPE SUPPORT
As an alternative to replacing your HPE servers post-contract, clients turn to Top Gun to help extract additional value from their mission-critical and disaster recovery HPE infrastructure. Top Gun is your proven, trusted, and reliable option to HPE maintenance solutions. Small, midsize, and enterprise-wide infrastructures trust Top Gun support to provide the flexibility and agility that HPE cannot offer on your equipment post-warranty.
| Family | Platform |
| --- | --- |
| Z | IBM z15 (IBM 8561) |
| Z | IBM z14-ZR1 (IBM 3907) |
| Z | IBM z14 (IBM 3906) |
| Z | IBM z13s (IBM 2965) |
| Z | IBM z13 (IBM 2964) |
| Z | IBM EC12 (IBM 2827) |
| Z | IBM BC12 (IBM 2828) |
| Z | IBM z196 (IBM 2817) |
| Z | IBM z114 (IBM 2818) |
| Z | IBM z10 BC (IBM 2098) |
| Z | IBM z10 EC (IBM 2097) |
| Z | IBM z9 BC (IBM 2096) |
| Z | IBM z9 EC (IBM 2094) |
IBM Z SUPPORT
Top Gun IBM Z hardware maintenance and support services provide the reliability, and expandability nimble companies have come to depend on for post-warranty support. The Top Gun team sets sky-high requirements and expectations for IBM Z support: 4-hour delivery of vital spare parts, 24/7 availability, and comprehensive break/fix support. Enterprises throughout the globe turn to Top Gun to keep their IBM Z infrastructure running at peak performance.
CISCO SUPPORT
Top Gun is the leader in performance-enabling services that are designed to stimulate, prolong, and optimize your high-performance Cisco server hardware. Our services allow you to maximize operational efficiency while minimizing risk, achieving a faster time to value for your network. Instead of replacing your Cisco hardware post-warranty, rely on Top Gun to ensure your Cisco investment continues to meet technological goals long after your original investment.
LENOVO SUPPORT
Lenovo hardware maintenance support by Top Gun provides your small, medium, or large enterprise the mission-critical support required to deploy complex solutions involving your Lenovo ThinkServer, xServer, and xSeries server platforms.  Top Gun support streamlines your operations and service level management through our nationwide, 24x7x365 maintenance support model.

TOP GUN MAINTENANCE BENEFITS MISSION CRITICAL PLATFORM™
Top Gun's maintenance services provides mission critical support for mainframes, servers, storage and networking. We extend your equipment's life after the manufacturer's warranty has expired, provide peace of mind and also offer maintenance cost savings you can use towards other IT spending. Extend the useful life of your equipment and postpone technology refresh. Consolidate contracts and vendors with flexible contract terms and cancellations. Mix and match service levels within a single location across your enterprise. ServiceNow Field Services & Asset Management Portal Shorten call-to-dispatch times to 2 hours for service. Reduce hardware costs to deliver game-changing economics.
ACCOMMODATING

.

CUSTOMIZED

. TOP LEVEL SUPPORT
Top Gun focuses on business outcomes that leverage our deep technical expertise to help clients achieve more benefits—including enabling employees, improving service levels, and delivering game‑changing economics.
THE TOP GUN DIFFERENCE.
Powered by ServiceNow, Top Gun Technology provides TPM 2.0™ maintenance services that are uniquely designed to deliver the highest quality of infrastructure support for mission critical operations.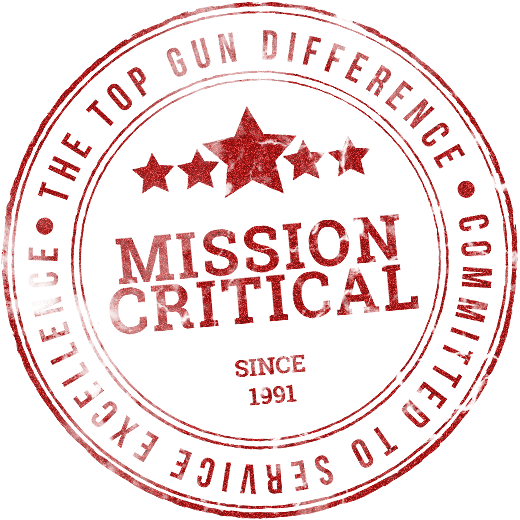 Let's Talk Mission Critical Support
As a Top Gun client, you'll notice a superior level of commitment and personalized support – day or night – from the most experienced technical engineering team in the industry. Proven. Trusted. Reliable