WIRELESS SURVEYS
Top Gun Technology provides high-quality, innovative solutions to assess, survey, design, procure, and install your wireless network infrastructure. ​
OVERVIEW
Wi-Fi connectivity is critical for supporting business operation applications and systems in warehouses, offices, hospitality, and mission-critical environments. Top Gun Technology's practice of experienced project managers, engineers and architects consultatively build an end-to-end solution that allow you to adapt and thrive in today's dynamic environment.​
We deliver the right mix of custom, multi-branded, one-stop-shop wireless implementation capabilities for the widespread adoption of mainstream workloads in IT organizations of all sizes.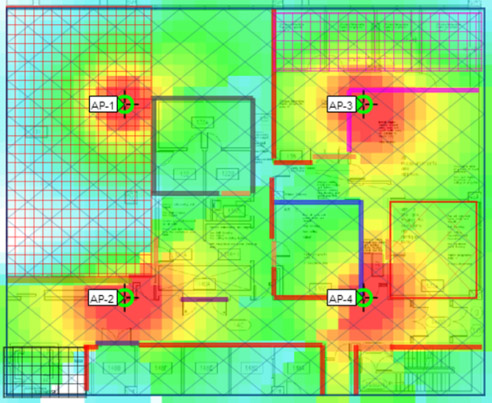 PREDICTIVE SURVEY
Remote model of existing or future wireless network design based on AP location and desired RF characterization for that specific environment. ​
Top Gun Technology created design with certified engineers​
Interference modelled into the design​
Uses accurate site information to model future performance​
Typically occurs in net-new builds or existing environments without wireless solutions​
​
AP-ON-A-STICK​
Physical placement of an access point at a specified location within the respective environment to record RF behavior in real time to provided real results.​
100% accurate pre-deployment analysis​
Determine the optimal locations for access point placement​
Ensure that adequate coverage overlap exists for client roaming​
Typically occurs in net-new builds or existing environments without wireless solutions​
Leveraged in unique physical environments​
​
ACTIVE SURVEY
Analysis of active networks to detect all RF, potential interferences, and associated signal strengths for holistic insight of RF environment.​
Identify noise and interference ​
Eliminate security threats, via rogue devices​
Full awareness of RF environment​
Typically leveraged medical, academia, and warehouse environments with many IoT devices​
PASSIVE SURVEY
Evaluation of existing wireless coverage and performance by analyzing WLAN traffic to detect access points and signal strength. ​
Remediate channel overlap​
Identify coverage improvements​
Verify wireless LAN operating in accordance with design​
Typically identifies wireless network design issues, versus interference issue​
Passive survey leveraged to validate wireless implementation, customer or non-Top Gun Technology implementation opportunities
​
VALIDATION SURVEY
Validation analysis, leveraging passive survey methodology, to confirm the performance optimization of wireless infrastructure environment.
Validate wireless implementation, customer or non-Top Gun Technology implementation opportunities ​
Insurance against potential coverage gaps and/or future outages​
Ensure potential for optimum business performance​
COMPLETE PACKAGE
Top Gun provides an end-to-end program solution to procure and install your customized wireless infrastructure design. ​
CUSTOMIZED SOLUTION
In-depth, high quality output of wireless frequency discovery findings, strategic customized infrastructure design specification to provide an optimized environment based on customer specific needs. ​
Top Gun Technology created design with certified engineers​
Custom generated for unique environment​
Strategic recommendations to remediate issues​
Recommended Bill of Materials (BOM) included​
PRODUCT PROCUREMENT
Product procurement planning and lifecycle management based upon recommended, customer approved, manufacturer in addition to any cabling, MDF(s), IDF(s) or other network infrastructure requirements to implement proposed network design.
Being a multi-brand partner allows for best and most customer accommodating environment buildout ​
Leveraging Top Gun Technology's OEM relationships, we provide a full end-to-end network infrastructure procurement solution; Planning to Procuring to Delivery to Installation
IMPLEMENTATION
Design and installation of the infrastructure cabling and hardware to support the delivery of an optimized, turn-key wireless solution.
Cabling infrastructure designed by experienced BICSI RCDD's​
Infrastructure installed by BICSI and OEM certified installers​
Delivery of detailed "As-Built" drawings to support future needs​
Provide a manufacturers system warranty on cabling infrastructure, up to 25 years
WHY
CHOOSE
TOP GUN FOR WIRELESS SURVEYS

Every wireless survey, design, BOM and infrastructure implementation is customized to provide the optimum solution for that specific customer environment.​

Being a legacy partner to the top OEMs in the industry, Top Gun Technology is uniquely positioned to provide the best product for the customers needs.​​

Capability to assess, design, procure, install and validate your wireless network solution from a single provider eliminating complex implementation engagements.​​​
KEY DIFFERENTIATORS
One-stop-shop for all wireless network infrastructure needs​
Global experience in retail, healthcare, industrial, manufacturing, academia and corporate implementations ​
In-house team of Ekahau-certified engineers and architects to assess and design your wireless network​
Being vendor agnostic means we can build and procure best-of-breed solutions from multiple brands ​
BICSI RCDD's and OEM Certified Installers deliver quality, certified expert-backed infrastructure solutions​
Project management of all complexities for turn-key solution
THE TOP GUN DIFFERENCE.
Powered by ServiceNow, Top Gun Technology provides TPM 2.0 maintenance services that are uniquely designed to deliver the highest quality of infrastructure support for mission critical operations.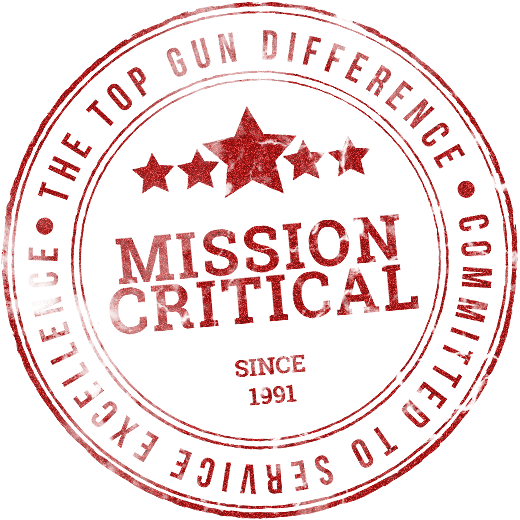 Let's Talk IT Services & Support
As a Top Gun client, you'll notice a superior level of commitment and personalized support – day or night – from the most experienced technical engineering team in the industry. Proven. Trusted. Reliable.SM