The evolution of TPM 2.0 was specifically designed for organizations that expect Mission Critical Support Services® and seek to maximize value. Top Gun continually invests in the best technical engineers, ITIL-based processes and digital technologies that ensure service quality and SLA attainment. By investing in a world-class service infrastructure, Top Gun handles the most complex and critical systems within an enterprise-class data center. Top Gun's TPM 2.0 operating model includes: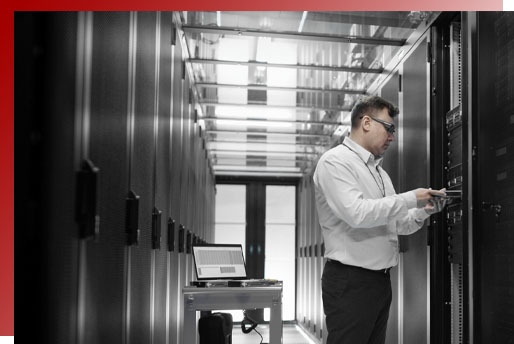 Top Gun's digital capabilities include an end-to-end platform that connects clients to services, creating bi-directional services feedback that drives visibility, speed and agility.
Based on ServiceNow®, Top Gun has developed an ITSM platform that allows data to be received from a variety of systems and applications without requiring clients to procure additional management tools that often impede system performance or create security concerns.
By design, Top Gun leverages native hardware alerts and notifications that are securely received, processed and relayed across Top Gun's digital fabric.
ServiceNow
At the foundation of Top Gun's digital platform is ServiceNow, a leader for IT Service Management (ITSM) for the 9th straight year, according to Gartner®. ServiceNow was specifically chosen by Top Gun to provide mission critical support to clients that require:
Resilient IT services on a single, secure cloud platform
IT Productivity with faster platform-native AI resolutions
Global incident management with "always-on" services
Automated workflow enabled by trusted and verified data
Bi-directional system connectivity with live service data transport
Secure asset repository that captures service history and lifecycle stages
Product Research &
Development Lab
Delivering service quality to the most demanding clients requires a significant investment in a research and development lab that not only supports product innovation, but also becomes a "live" environment for engineers to learn, explore and troubleshoot complex issues. Unlike traditional TPMs that are reducing investments in lab systems, Top Gun continues to lead the industry with its financial and technical investment in servers, storage and networking products that are running in an "always on" environment.
Automation drives speed and accuracy, there is rarely a substitute for real-world engineering experience. The combination of automation and engineering becomes Top Gun's greatest differentiator in the marketplace. Unlike any other hardware support provider, Top Gun's delivery model is led by "Best of the Best" L3 System Engineers from the onset of incident on through to resolution.
Clients immediately experience the difference between connecting to a L3 engineer in under 30 minutes, and avoiding the traditional delays caused by escalation trees (L0>L1>L2>L3).  By engaging L3 engineers upfront, Top Gun is able to reduce resolution times by 3X, in comparison to traditional service delivery models.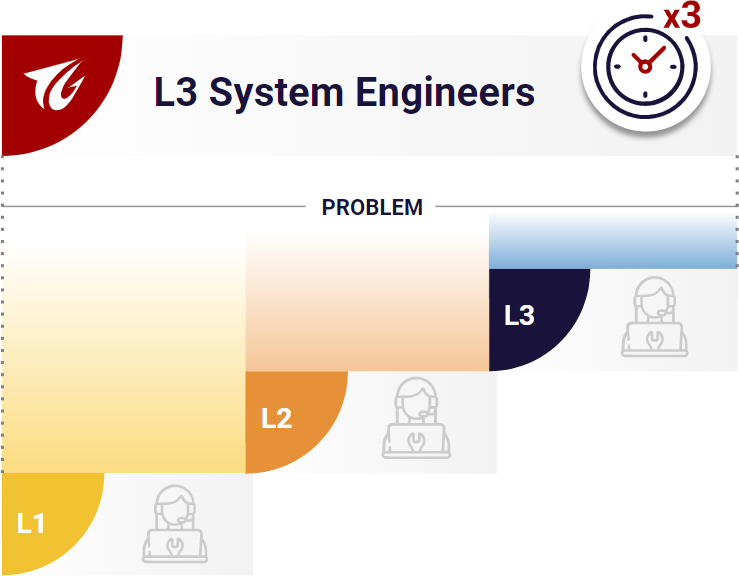 Global
Sparing & Logistics
Security and risk management are crucial to all mission-critical IT operations. Top Gun intentionally controls sparing and logistics with a dedicated in-house team of experts that understand the nuances of deploying, tracking and returning spare parts in a safe and secure manner.
Top Gun commits to purchasing and testing spare parts as part of every new client onboarding. With 100% transparency, our TrueView Analysis includes a sparing analysis and proximity report so that you can rest assured that your tested spares are stored safely and nearby your site.
Global Field Service Network
Under the TPM 2.0 delivery model, Top Gun's L3 engineers and field engineering services are available globally. Each and every Top Gun engineer has been properly trained, extensively vetted and operates within our delivery model and systems. Directly connected to our L3 engineering team, our field engineers are available 7x24x365, globally. With a diverse skill set, our field engineers are on hand and ready to provide:





Service Assurance
Program
Top Gun assigns a dedicated transition management team that leads every aspect of onboarding to Top Gun's support and services. With every engagement, Top Gun follows an ITIL-based methodology that ensures a seamless transition process.
Step-by-step transition planning
Workflow and team alignment
Successful setup and testing of system alerts
Review of incident management
Contract and change management
Knowledgebase and documentation
Sparing and logistics
Physical and virtual site audits
Hardware health analysis
Procedure review and training
Continuous monitoring and quality management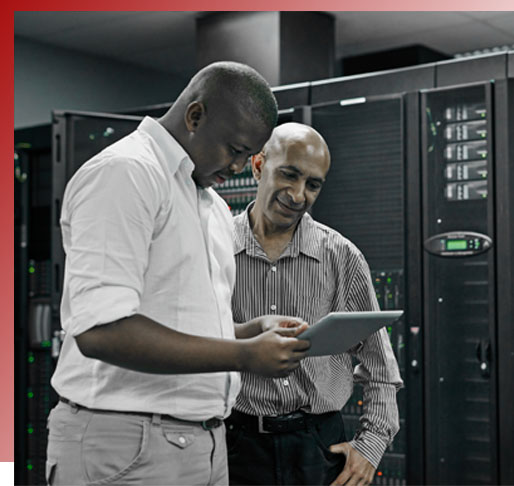 THE TOP GUN DIFFERENCE.
Powered by ServiceNow, Top Gun Technology provides TPM 2.0 maintenance services that are uniquely designed to deliver the highest quality of infrastructure support for mission critical operations.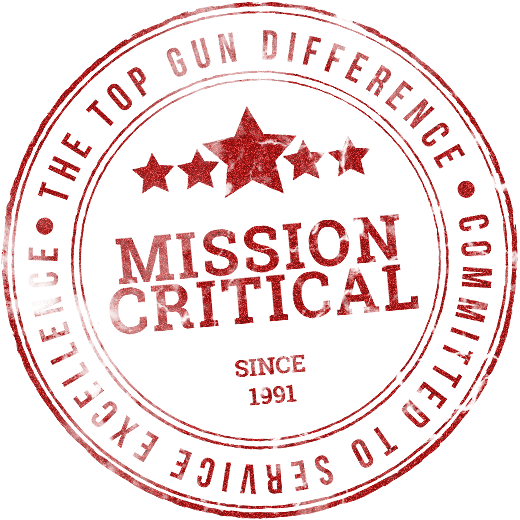 Let's Talk IT Services & Support
As a Top Gun client, you'll notice a superior level of commitment and personalized support – day or night – from the most experienced technical engineering team in the industry. Proven. Trusted. Reliable.SM