CISCO END OF SERVICE LIFE LISTS
Cisco publishes End of Service Life and End of Life dates as part of the transition process associated with obsolete Cisco products, service, or subscriptions. Below is Cisco's End of Product lifecycle timeline that can help manage your EOL transitions and reduce disruptive challenges in maintaining Cisco technology.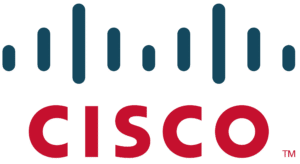 Understanding Cisco End of Service Life (EOSL)
Cisco End of Service Life (EOSL) is the last day that Cisco will offer managed service for hardware, operating systems (OS), or general maintenance for that hardware platform entitled by active service contracts. Cisco's internal terminology for EOSL is the Last Day of Support (LDOS). No Cisco Technical Assistance Center (TAC) will be available after the LDOS.  Not sure when your warranty ends or how to find your serial number, check your Cisco warranty status.
What is Cisco End of Life (EOL)?
Cisco End of Life (EOL) is the process in which Cisco no longer makes a product, service, or subscription available for hardware. Cisco continues to offer post-warranty hardware support for any active TAC contracts up until LDOS, but Third-Party Maintenance (TPM) is available for most Cisco equipment that is EOL.
Important Cisco End of Life Dates
Hardware Last Order Date (LOD)
Six months after (EOS) for announced hardware products.
Last Customer Ship Date (LCS)
Three (3) months after LOD, the last-possible ship date that can be requested of Cisco.
End of New Service Contracts
Twelve (12) months after EOS, no new service contracts are available.
Software Support Discontinued
Cisco's TAC contracts for on-site software, SaaS, XaaS support ends three (3) years after EOS.
Last-Day-Of-Support (LDOS)
Five (5) years after EOS, Cisco will not perform support of any kind for the affected hardware.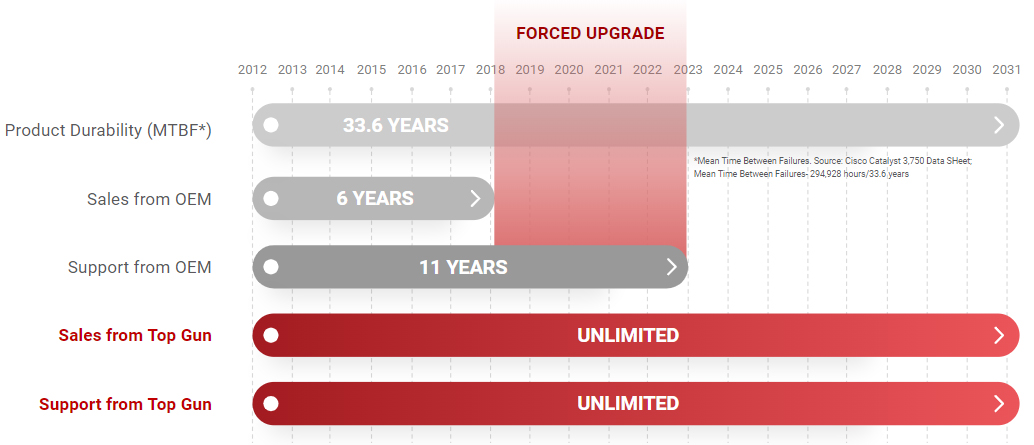 Reaching LDOS with your Cisco equipment – Now What?
Cisco products reach LDOS due to market demands, technology innovation, and development driving changes. In the five (5) year EOS timeline, Cisco gradually reduces its role in helping maintain existing equipment in order to migrate your enterprise to alternative Cisco products and technology. As Cisco reduces their role, clients across the World turn to Top Gun for our ability to maintain consistent stability across your enterprise — ensuring you achieve your IT and business goals.
Top Gun Technology for Cisco Product Support
The following end-of-life (EOL) products are eligible for Top Gun's Cisco third party maintenance services. To receive a complimentary quote comparing Top Gun maintenance with Cisco TAC, kindly submit a request.
Planning for EOL for your Cisco equipment
The Top Gun TrueView™ Risk Assessment will guide you through the planning process from Cisco TAC support. Get started today by speaking with a TGT Product Manager at 888-8-TOPGUN.
Subscribe to our Quarterly EOSL Updates
It's easy to overlook or lose track of EOSL dates. Select your OEMs and receive accurate EOL and EOSL dates across multiple vendors with our quarterly EOSL email newsletter.
THE TOP GUN DIFFERENCE.
Powered by ServiceNow, Top Gun Technology provides TPM 2.0™ maintenance services that are uniquely designed to deliver the highest quality of infrastructure support for mission critical operations.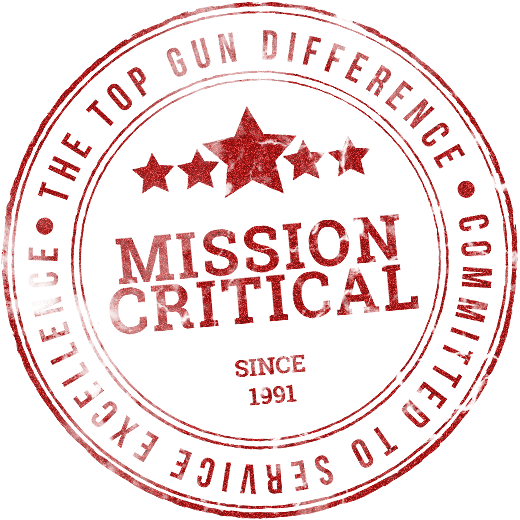 Let's Talk End of Life Solutions
Top Gun will provide customized hardware solutions designed to meet your technical and financial requirements allowing you to extend the support cycle and maximize the value of your hardware for products manufactured.