NetApp Third Party Maintenance
As you seek to leverage cutting-edge technological innovation, essential NetApp storage maintenance services are required. Our exceptional, world-class NetApp Level 3 technical team dedicates itself to maintaining your infrastructure and facilitating your digital transformation journey.

Engineering-Centric NetApp Support
As companies grow and evolve, their IT infrastructure must adapt to meet changing business needs. Top Gun recognizes that each organization faces unique challenges when scaling their NetApp storage environment. Our team takes the time to listen and understand your specific requirements. We then work collaboratively to develop a tailored support strategy optimized for your NetApp systems. With deep expertise across the entire NetApp portfolio, Top Gun helps ensure your infrastructure aligns with and enables your organization's success as it expands.
Efficiently evolve your NetApp environment to meet the rising expectations and maintenance demands of your growing business, regardless of your data center's location. Our best practices and proven approach enable enterprises worldwide to effectively manage hybrid cloud and on-site infrastructures. By entrusting Top Gun with this task, your IT staff can concentrate on advancing your organization's strategic initiatives.
Leveraging our deep technical expertise, our Mission Critical Support Services empower your business to focus on outcomes that enhance staff capabilities, improve service initiatives, and deliver game-changing economics to reduce total cost of ownership. By implementing flexible, innovative technologies and customized solutions, we strive to simplify maintainability, increase efficiency, and minimize downtime, allowing you to reclaim control over your environment.
With a team of highly skilled Level 3 engineers, Top Gun alleviates the burden of managing your NetApp devices and ensures that your business needs are met around the clock. As your contract with NetApp approaches its end, engage with Top Gun experts before renewal to explore the comprehensive NetApp maintenance service experience we offer. From NetApp hardware and NetApp storage hardware to NetApp ONTAP and NetApp Professional Services, we provide the support your organization requires for service life, spare parts, and volumes, ensuring optimal performance of your data center.
Additional NetApp Resources
Focused
on Value Creation
• Reduce OpEx and CapEx by extending the life of your storage investments
• Gain control and achieve service consistency across a global footprint
• Keep pace by deploying an agile delivery model that adapts to your constantly changing demands
• Simplify contract and vendor management
• Reallocate funds and resources to higher-value initiatives
• Partner with a financially independent and veteran-owned company that upholds client service commitments
• Connect to a digitally enabled service framework that increases speed, promotes accuracy, and compresses resolution time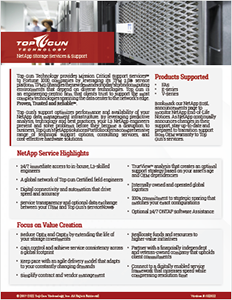 Better NetApp FAS Support
Top Gun Technology connects with our storage clients to create a solution focused on their NetApp FAS maintenance goals. Our FAS support provides comprehensive break/fix NetApp support, and software problem determination that puts your FAS storage on autosupport.
Step up to simple, smart, and trusted NetApp FAS maintenance storage support. Top Gun Technology's maintenance solutions provide comprehensive break/fix support.
Top Gun NetApp maintenance services help improve performance and efficiency in your hybrid cloud and on-site environments. Top Gun NetApp Engineers manage your infrastructure using our proven approach and best practices – enabling your IT staff to focus on the initiatives required to advance your organization.
Learn more about our in-house NetApp L3 technical team, options, and how Top Gun service initiatives lead to game‑changing data center economics by setting-up a meeting with our team.
NetApp FAS Models Supported
FAS 2000 Series
FAS2020
FAS2040
FAS2050
FAS2220
FAS2240
FAS 3000 Series
FAS3020
FAS3040
FAS3050
FAS3070
FAS3140
FAS3160
FAS 3200 Series
FAS3210
FAS3220
FAS3240
FAS3250
FAS3270
FAS 6000 Series
FAS6030
FAS6040
FAS6070
FAS6080
FAS 6200 Series
FAS6210c
FAS6220
FAS6240c
FAS6250
FAS6280
FAS 8000 Series
FAS8020
FAS8020c
FAS8040
FAS8040c
FAS8060
FAS8060c
High Performance E-Series Support
Differentiate your organization from the competition, and accelerate time to market. Healthcare, security, media, and high-performance computing markets such as oil and gas, manufacturing, and government chose Top Gun to help capture competitive advantages and boost efficiency for critical E-Series workflows in the data center.
Top Gun E-Series support establishes a foundation for highly available, performance-optimized support in mission-critical vertical markets.
In today's market, you need a partner to deliver exceptional support performance with nonstop availability. Streamline your IT infrastructure and drive down OpEx with the flexibility of tailored support solutions for companies of all sizes.
Gain access to our in-house NetApp L3 Engineers and 24/7 services today by starting a dialogue with us on how your enterprise can reap the benefits and opportunities of a fully integrated support environment.
NetApp E-Series Models Supported
POST WARRANTY V-SERIES MAINTENANCE
At Top Gun Technology, we are a complete V-Series solution partner. We provide NetApp V-Series support for the entire environment. From initial deployment to software problem identification to performance and availability – we do it all.
Greater data availability and storage virtualization optimization for your V-Series hardware.
Agility born of storage virtualization technology is what sets NetApp V-Series apart from its competition, and it requires an equally agile and distinct service to maintain it. That's why Top Gun Technology delivers a L3 technical team to support your infrastructure as you pursue digital transformation.
Reduced IT density results from partnering with the right provider to manage your platform, whether all your data resides on NetApp hardware or if you have come to rely on V-Series to unify diverse storage environments. Not everyone understands how open storage controllers can simultaneously manage both SAN and NAS storage through one device in a vendor-agnostic way. Nor can everyone help your business realize the cost savings to be had by deploying Data ONTAP deduplication and other efficiency features.
NetApp V-Series Support
WHY
CHOOSE
TOP GUN FOR NetApp Storage MAINTENANCE The backbone of our ticketing, incident and asset management field service capabilities. Top Gun L3 NetApp Storage technical support engineers are the best in the industry. Our engineer-staffed service network is located throughout the World, providing 24/7 support.
ACCOMMODATING

.

CUSTOMIZED

. TOP LEVEL SUPPORT
Top Gun focuses on business outcomes that leverage our deep technical expertise to help clients achieve more benefits—including enabling employees, improving service levels, and delivering game‑changing economics.
THE TOP GUN DIFFERENCE.
Powered by ServiceNow, Top Gun Technology provides TPM 2.0™ maintenance services that are uniquely designed to deliver the highest quality of infrastructure support for mission critical operations.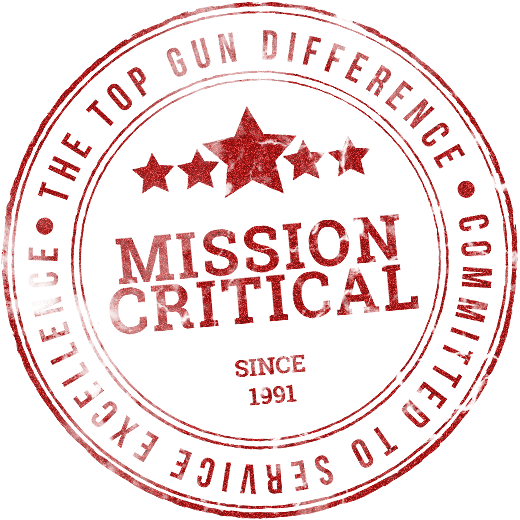 Let's Talk Mission Critical Support
As a Top Gun client, you'll notice a superior level of commitment and personalized support – day or night – from the most experienced technical engineering team in the industry. Proven. Trusted. Reliable