Key Considerations for Those that Choose 'Self-Maintenance' of Data Center Hardware
By Therese Williams, Top Gun Technology
Self-maintenance of data center hardware, including systems that are mission critical, has been a practice and choice for IT organizations for several decades. One could argue that IT organizations rarely desire to be in the business of maintaining their own data center hardware; but, there are certain hardships that take them down this road, such as:
Rising costs of OEM/post-warranty contract support
Hardware deemed unsupportable by the OEM
Support providers that have proven to be unreliable or inconsistent with service delivery
Geographic coverage challenges (far-to-reach sites)
Data center security policies that restrict or prevent dispatch technicians from site access
Equipment that is deemed to be "customer maintainable" by OEMs
Systems that are non-production and carry little to no risk with down-time
The intent of this blog is not to convince you to remain with costly or inadequate vendor-delivered maintenance contracts. Rather, it is to raise awareness to critical functions that should be considered when building a data center hardware maintenance program. The below diagram depicts some (not all) of the essential features and disciplines associated with delivering "break/fix" maintenance on physical servers, storage and core networking devices.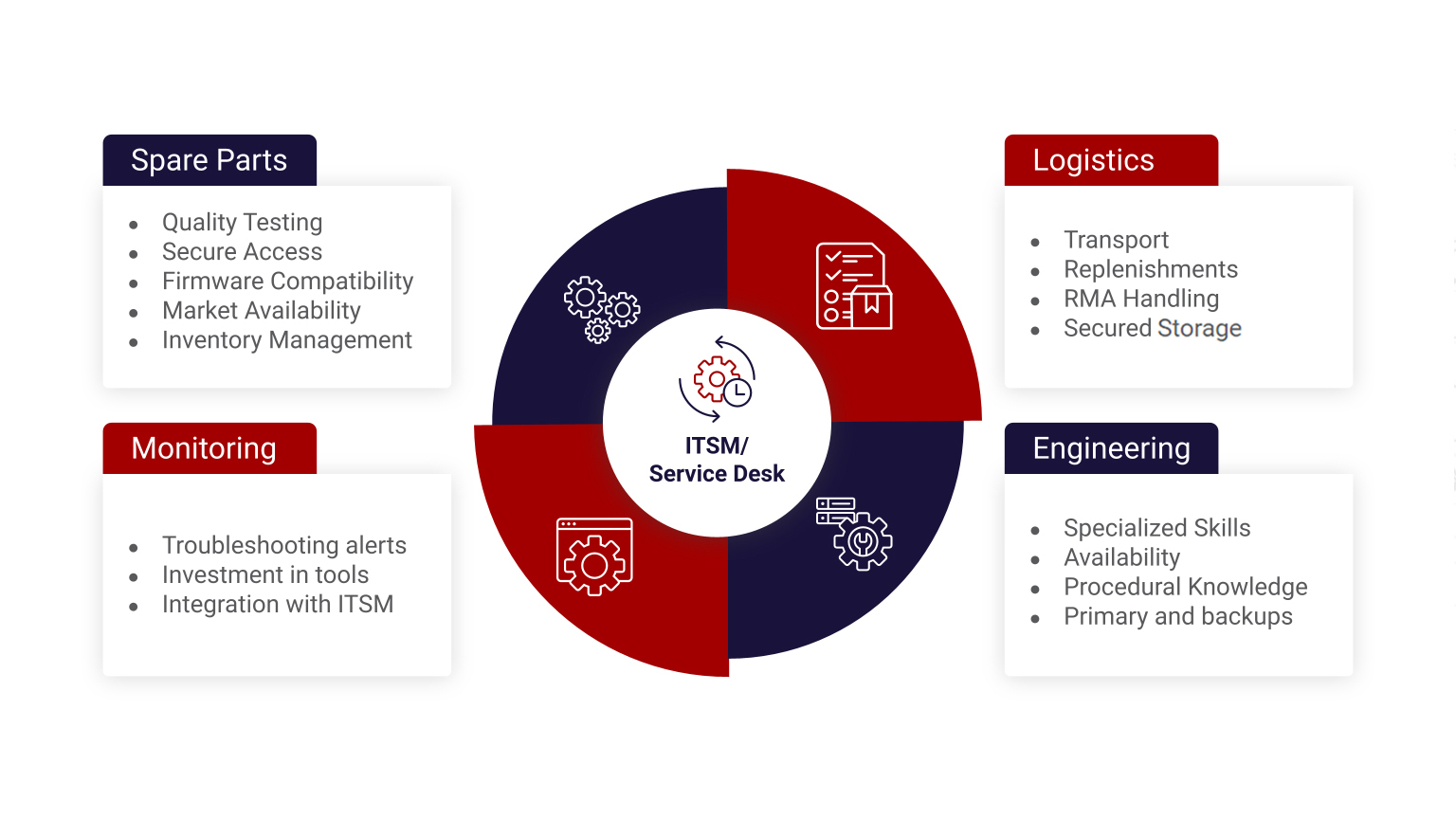 If and when you should decide to set up shop to deliver hardware maintenance internally, there is a solution that is often overlooked. Namely, you may want to evaluate a "shared-support" program that combines the capabilities of an agile independent support provider that is willing to offer you a fractional support solution that seamlessly integrates with your internal operation. When carefully designed, you will achieve cost savings, reduce risk and decrease resolution (MTTR) times.
Similarly, if you are already a self-maintainer for some or all of your hardware, but recognize internal limitations and resources, then partnering with an independent support provider to augment your operation may allow you to retain your cost savings while driving reliable service outcomes.
Bottom line, there are alternative support solutions to be considered. OEMs and traditional TPMs (Third Party Maintainers) will often avoid offering fractional or highly-tailored maintenance solutions over standardized "one-size-fits-all" options. Seeking a hardware support provider with a service infrastructure that enables agility and fractional delivery options can help you achieve success with your self-maintenance operation.
At Top Gun Technology, we welcome conversations with self-maintainers to explore strategies that strengthen an existing operation while retaining what is working and focusing on helping you close any gaps.
Blog Author Details
Therese Williams
EVP, Global Alliances & Strategic Initiatives