Dell Compellent SC220
Top Gun Technology (TGT) provides Dell Compellent SC220 maintenance services to IT infrastructures all over North America. We engage with our clients to construct a solution focused on their corporate goals and technology objective. Internally, we refer to it as our Mission Critical Platform, or TPM 2.0™. Our platform is built on a foundation of world-class processes designed to deliver Mission Critical Support Services™ across all storage environments.

Dell Compellent SC220 Support
Top Gun Technology's hardware support of the Data Domain product line includes all hardware break/fix activities from a labor and parts perspective, while excluding firmware and software updates.
Examples of hardware break fix activities:
Failed hard drive replacement
Failed SSD replacement
Power supply replacement
LLC replacement, etc.
Software Support Model
As a standard part of our hardware maintenance support, we include remedial software support. Our software support model is best described as Software Break/Fix. The support requires the client has a licensed product and it is functional. Excluded from support are administrative activities like setup or configuration of the software product for the client.
Supported Software
Boost
Replicator
Encryption
Extended Retention
Retention Lock
Virtual Tape Library
Management Center
Professional Services Available
Rack and Stack
Data Migrations
Equipment upgrades or replacement
Configuration changes
Backup Software and Integration
Performance Analysis
System Command Administration
Switch Zoning configuration
NAS configurations
Storage Architecture Services
Additional Dell Resources
WHY
CHOOSE
TOP GUN FOR Dell Compellent SC220 MAINTENANCE The backbone of our ticketing, incident and asset management field service capabilities. Top Gun L3 technical storage support engineers are the best in the industry. Our engineer-staffed service network is located throughout North America, providing 24/7 support.
ACCOMMODATING

.

CUSTOMIZED

. TOP LEVEL SUPPORT
Top Gun focuses on business outcomes that leverage our deep technical expertise to help clients achieve more benefits—including enabling employees, improving service levels, and delivering game‑changing economics.
Why clients prefer and keep choosing Top Gun Technology for their storage maintenance.
At Top Gun, we engage with our clients to construct a solution focused on their corporate goals and technology objectives. We specialize in Mission Critical Services by delivering three business outcomes (1) Improved performance (2) Increased value (3) A better personal and digital experience
How Top Gun Technology's values align with your overall company mission
TGT's philosophy centers on transparency, and we believe as business and IT leaders you deserve to understand the "how" behind achieving mission critical stability. We built our company from the ground up upon the values of commitment, integrity, expertise, and being resolute. These values allow us to prioritize your needs and to keep them at the forefront of our vision. We operate with and value transparency and take pride in offering a service with the same quality of work and respect that we would want for ourselves.
Our commitment to performance
Top Gun believes in working toward your goals, rather than just working for you. We take the time to learn who you are — your background, values, and mission — so that we can provide specialized services and solutions to your problems that go beyond the basic installation and fixes related to Dell EMC storage.
Technological systems, like EMC storage, can be complex and confusing. Our mission critical governance structure is solely responsible for providing a superior client experience for your internal stakeholders. Through our rigorous optimization process, TGT is able to "light up" these services to provide fast and effective support for Dell EMC storage systems.
As part of TGT's Mission Critical Platform, we implement a structure with the discipline to transition subsequent platforms (other servers, storage, network, and mainframe) swiftly.  We are committed to solving your problems and reducing your downtime, allowing you to simply work.
As you consider Third-Party Maintenance, we invite you to engage with TGT, call our references, tour our facilities and meet our L3 Technical teams. Seeing is believing. Witness the value and stability of the TGT Mission Critical Platform, TPM 2.0™.
THE TOP GUN DIFFERENCE.
Powered by ServiceNow, Top Gun Technology provides TPM 2.0™ maintenance services that are uniquely designed to deliver the highest quality of infrastructure support for mission critical operations.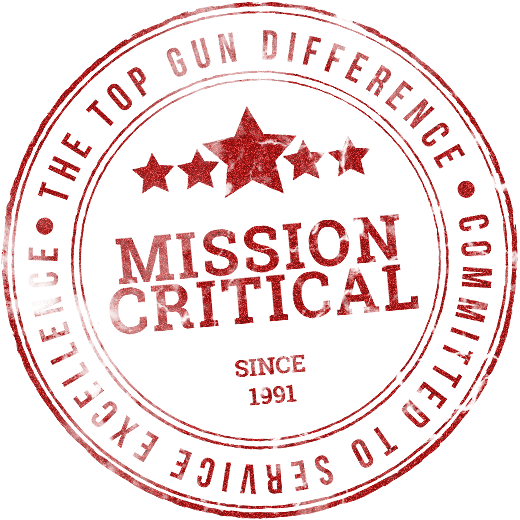 Let's Talk Mission Critical Support
As a Top Gun client, you'll notice a superior level of commitment and personalized support – day or night – from the most experienced technical engineering team in the industry. Proven. Trusted. Reliable