HP-UX Support Roadmap – Trends & Planning: Check Out the HP-UX "Bathtub Curve"
Are you aware of HPE's evolving support trends for your HP-UX servers? If not, or you've only heard rumors, this short blog is intended to be helpful and ensure preparedness so you're able to continue running this platform for as long as YOU choose, and maximize your investment in HP-UX and the applications licensing for which you've already paid.
While the most recent HP-UX Roadmap indicates various continuing support levels for HP-UX 11.31, 11.23 and 11.11 (standard, mature product and prior version support), all indications are that the OEM no longer views HP-UX as a strategic platform  – particularly as Itanium processor production has been discontinued and HPE has delivered its very last shipment of Integrity servers. OEM resources specializing in this niche platform are being proactively reduced, while ongoing support costs are increasing.
Simultaneously, some Third-Party Maintainers (TPMs) are contracting remedial-only support to clients without making essential investments in tested spares, tools and critical testing labs – or are disguising basic support features as separate managed services. Testing is EXTREMELY important as well as having an extensive lab environment to reproduce and isolate hardware and OS problems, test work-arounds or solutions and even completely rebuild HP-UX servers when necessary. These capabilities should be required of selected support vendors.
At a time when HP-UX expertise is increasingly limited, it's wise to re-evaluate your TPM choices, ensuring your maintenance spend is giving you the critical support you'll need when you're faced with a major outage or critical situation (we call them "Crit-Sits"). During any Crit-Sit, depth of knowledge, resources, tools and infrastructure are essential to minimize and avoid downtime.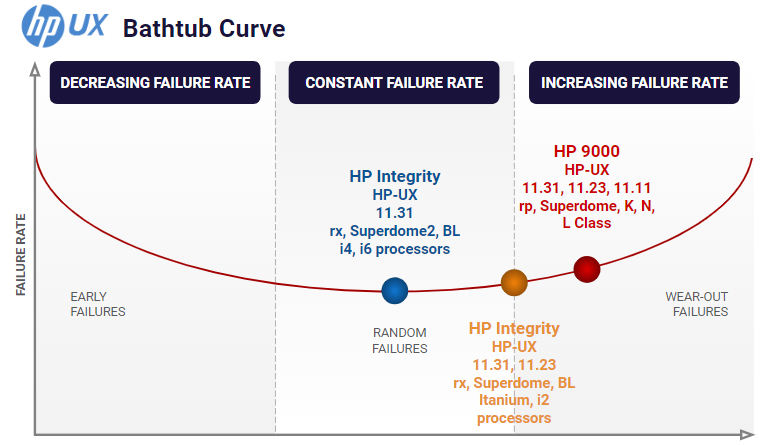 Where does this roadmap leave your business' mission-critical HP9000 and Integrity servers and the applications and databases which they're serving? What risks are created via support providers that no longer view HP-UX as strategic and worth of investing in technical expertise and fully tested parts?
Since these parts are often 20+ years old, not all providers may have invested in a reliable parts supply. Or, if spares are hurriedly ordered during a 'Crit-Sit,' lack of proper testing too often leads to major escalations. You likely have noticed defective drive rates are nothing short of outrageous these days. Yet, many part suppliers are no longer carrying parts for these older systems. As a result, some TPMs are already dropping support for older generation HP-UX systems, or worse – continuing to hold support contracts and rolling the dice with your monthly support dollars, leaving you holding the bag when downtime comes into play during a 'Crit-Sit.'
Since your company's management may view these systems as "safe because we aren't changing anything," the reality is the data is constantly changing, network environments are constantly evolving and mechanical/electrical components are aging and at higher risk of failure. In the 'HP-UX Bathtub Curve (displayed here),' the highest rate of increasing wear-out failures is now on the horizon for these HP-UX server platforms.
It's strategically important to have a partner with the level of expertise to rebuild and replace entire systems, rebuild OS versions and add-on subsystems from base media and a complete portfolio of solutions that minimize your risk while protecting your investment for the future.  Additionally, engaging in a routine HP-UX Annual Health Check service an be a proactive step in identifying and addressing potential system vulnerabilities before they escalate into critical issues. Your support partner must have OS/software support resources that can immediately access systems to identify root causes by process tracing, debugging and immediate crash dump and root-cause analysis.
Similarly, it's strategically important to have a partner that's invested in R&D, creating HP-UX-centric solutions in planning for the next leg of the HP-UX lifecycle – addressing all aspects of the HP-UX environment from aging Data Storage, Hybrid Cloud, SysAdmin, High-Availability and Migration Solutions.
Perhaps this blog, by Top Gun's Therese Williams, will inspire additional creative solutions: Improve Hardware Maintenance RFP Outcomes. At the very minimum, her advice will help you think more critically about HOW you conduct vendor vetting to minimize risk potential.
This is an ideal time to find a vendor that can help you reduce risks in your HP-UX environment, help you execute HP-UX projects, or even design and implement a logical roadmap to migration. Whether you're moving to a hosted and/or cloud environment, or enabling you to stay within your preferred footprint, very few vendors possess the expertise you're seeking.
Feel free to check out my last blog about HP-UX: Seven Ways to Identify HP-UX Risk
Top Gun Technology creates long-term value for data center decision-makers by providing personalized IT infrastructure maintenance and support. Expert solutions and designed infrastructures are strategically designed to support your mission-critical HPE servers – including HP-UX servers. Top Gun's Managed HP-UX Support Solution includes a highly-tailored call-home mechanism, which includes diagnostics and trend analysis. Top Gun can optionally include system administration, storage management, hosting, DR, database management and virtual storage solutions.
Blog Author Details
Melissa Girona
L3 Senior Technical Support Engineer
Top Gun Technology
Melissa's LinkedIn Profile