Dell EMC Serial Number Lookup
Before you request a Dell quote, we suggest checking your Dell warranty. This will help determine if you still have vital maintenance and avoid unnecessary costs when evaluating your Dell equipment.

Finding your Dell EMC Service Tag / Serial Number or Product ID:
For Dell EMC Servers:
You can identify your system using the unique Service Tag.
What is a Dell EMC service tag?
The Dell EMC service tag is a five or more character identifier that is unique to your product. In addition to the service tag, there is an Express Service Code which is a 10-digit or more numeric version of the service tag. All servers and storage devices will have a service tag, some accessories and peripherals do not.
Enterprise server and storage computer systems include these model names: PowerEdge Server, PowerVault, and Dell EMC Storage.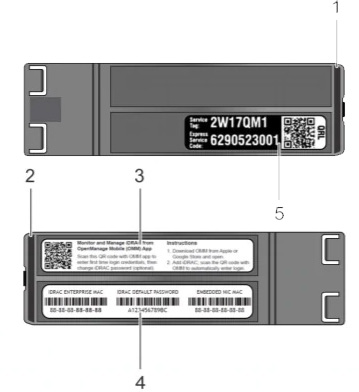 Locating Service Tag Using Command Prompt:
Remotely log into the system
Click your start/home button
Scroll down and click "Windows Administrative Tools" or "Windows System"
Click "Command Prompt"
On the Command Prompt window, type "wmic bios get serialnumber".
Hit enter.
Service Tag will be displayed.
For Dell EMC Storage:
The Service Tag and Express Service Code are found on the front of the system by pulling out the information tag. Alternatively, the information might be on a sticker on the back of the storage system chassis.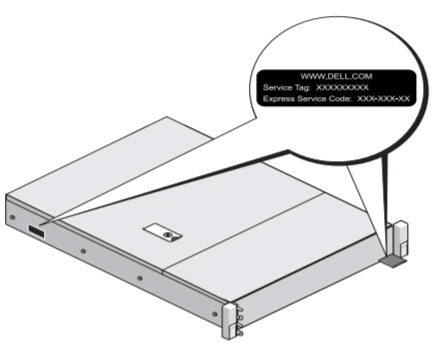 Looking up the Dell EMC warranty by Service Tag / Serial Number:
There are two ways to check the warrant status on your Dell EMC infrastructure. You can search on Dell's main warranty page, through your My Account on Dell's Support Site for Support Services. The second option requires a Dell support account login, and the former only requires a Service Tag or Product ID.
Step 1: Have your Dell EMC serial number or Service Tag readily available from the previous step.
Step 2: Visit https://www.dell.com/support/home/en-us//Products?app=warranty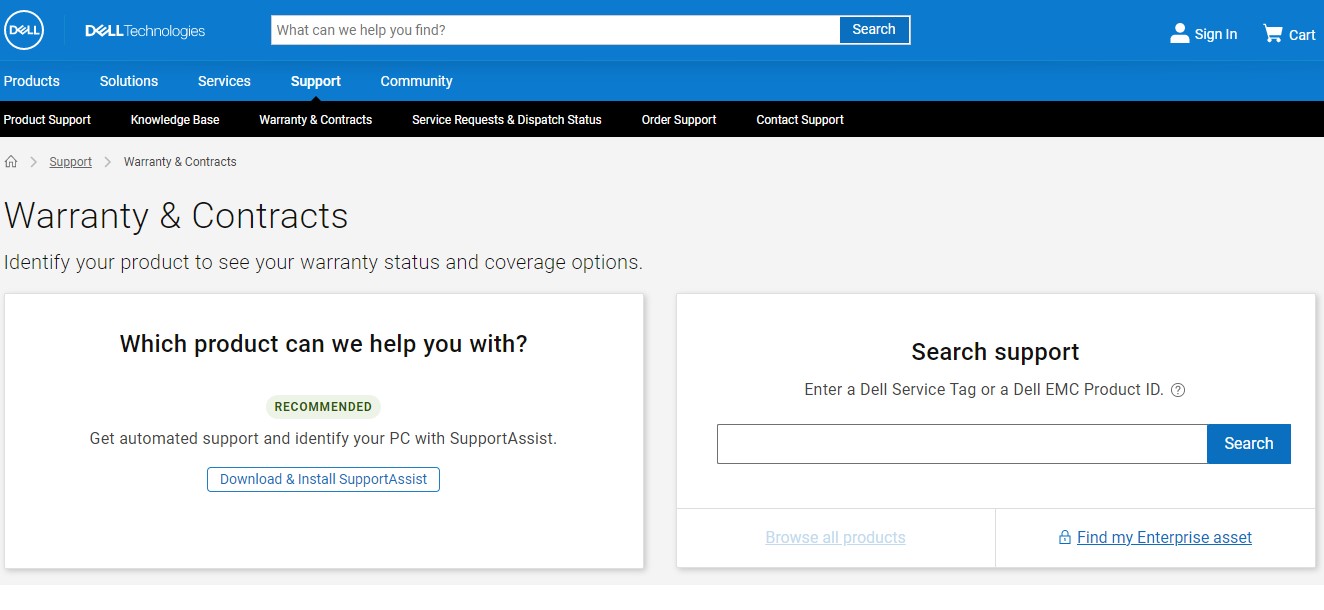 Step 3: Enter your Dell Service Tag or Dell EMC Product ID and hit search. Your warranty information will appear on the new page.
Once you have entered your Service Tag or Dell EMC Product ID and hit search, your warranty information will appear on the new page. This will include details such as the warranty start and end dates, the type of warranty coverage you have, and any other relevant information.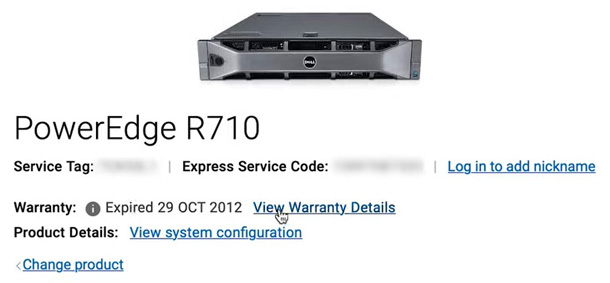 Step 4: For additional information, click on View Warranty Details for an expanded view of the warranty that was purchased with this platform.
Step 5:  Great, now what? Send us this information and let us know how long you want to maintain your equipment.
Dell EMC empowers your business. Top Gun Technology can help you realize this limitless potential with services for your Dell technology. We are experts in real-time monitoring and deployment of the latest solutions, hardware problem determination, and comprehensive break/fix services.
At Top Gun, we understand the importance of keeping your Dell devices running smoothly, and we are committed to providing you with the support and expertise you need to achieve this. Our team of highly skilled engineers specializes in Dell 3rd party maintenance, and we offer a range of services that are designed to help you maximize the performance and lifespan of your Dell devices.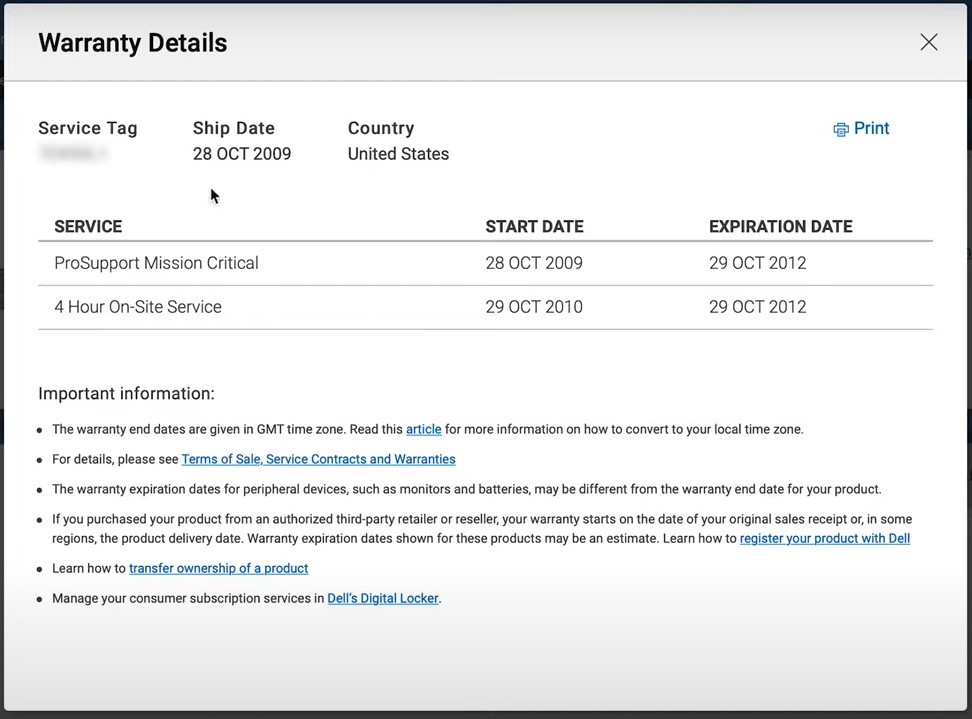 By checking your Dell warranty status, you can take the first step towards ensuring that your devices are properly maintained and operating at peak performance. Whether you require routine maintenance, software support, or hardware upgrades, we are here to provide you with the comprehensive support you need to keep your business running smoothly. Contact us today to learn more about our maintenance services and how we can help you achieve your business objectives.
Checking Your Warranty For Dell EMC Hardware
Search the warranty status of any product by its serial number or by its machine type with your Dell EMC product ID on Dell warranty lookup here.
Dell End of Life vs End of Service Life (EOL vs EOSL)
Dell End-of-life (EOL) refers to equipment that has stopped being produced but is still supported with service and spare parts. Dell End of Service Life (EOSL) refers to hardware has been off the market for a few years and now it is not offered any additional software, hardware or warranty service through Dell Technologies.
ACCOMMODATING

.

CUSTOMIZED

. TOP LEVEL SUPPORT
Top Gun focuses on business outcomes that leverage our deep technical expertise to help clients achieve more benefits—including enabling employees, improving service levels, and delivering game‑changing economics.
THE TOP GUN DIFFERENCE.
Powered by ServiceNow, Top Gun Technology provides TPM 2.0™ maintenance services that are uniquely designed to deliver the highest quality of infrastructure support for mission critical operations.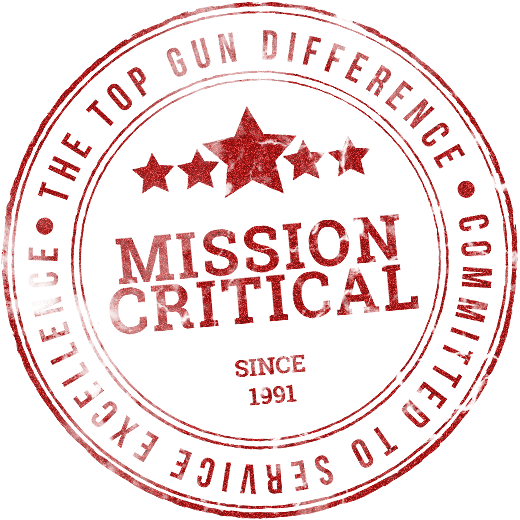 Let's Talk End of Life Solutions
Top Gun will provide customized hardware solutions designed to meet your technical and financial requirements allowing you to extend the support cycle and maximize the value of your hardware for products manufactured.